On April 6, 2022, Beiduo Finance learned from the Hong Kong Stock Exchange that the listing application materials of Green Tea Group Limited (Green Tea Restaurant Group, referred to as "Green Tea Restaurant") have "invalidated". this means,Green Tea Restaurant sprinted to be listed on the Hong Kong Stock Exchange again.
In particular, Green Tea Restaurant also passed the listing hearing in early 2022 and disclosed the post-hearing prospectus on March 7, 2022. Prior to this, Green Tea Restaurant submitted listing applications to the Hong Kong Stock Exchange in March 2021 and October 2021, both of which had "invalidated".

Open Phoenix News to view more high-definition pictures
Green Tea Restaurant's listing application fails again
In my opinion, this "failure",It is not that the green tea restaurant failed to meet the eligibility for listing, but the issuance conditions are not ideal, especially because the frequent epidemics have caused the restaurant's operation to be unstable, and there is great uncertainty in future growth.In particular, there have been relatively intensive confirmed cases in many places recently, and a large number of people are quarantined at home.
On the other hand, Haidilao will have a loss of more than 4.1 billion yuan in 2021, and nearly 90% of the loss is related to the closure of stores. Under the implementation of the "Woodpecker Plan" in 2021, by the end of 2021, 260 Haidilao restaurants have been permanently closed, and 32 restaurants have been temporarily closed for rest.
The financial report also shows that in 2021, the overall average turnover rate of Haidilao is 3 times per day. In contrast, Haidilao's turnover rate in 2019 was 4.8 times/day, and it dropped to 3.5 times/day in 2020. In contrast, 2021 is the lowest level of Haidilao's turnover rate in the past three years, and the per capita consumption has also dropped to 104.7 yuan in 2021.
Similarly, Xiabuxiabu also recorded a net loss of 293 million yuan in 2021, its first annual loss since its listing in 2014. Xiabuxiabu said that it was mainly due to the closure of 229 restaurants during the reporting period and the provision for impairment of existing restaurants with poor performance.
On March 30, 2022, Xiabuxiabu announced that the second management headquarters of the group has settled in Minhang District, Shanghai, and will gradually launch a recruitment plan for 10,000 employees to start a southward expansion strategy. According to the introduction, Xiabuxiabu plans to open 800 new stores in the next three years, of which Xiabuxiabu will add 500 stores, and Minato will add 240 to 300 stores.
Although Haidilao and Xiabuxiabu have suffered losses one after another, Cantonese-style hotpot Laowang, seafood hotpot chain restaurant Qixintian, as well as Green Tea Restaurant, Yang Guofu Malatang, and Hefu Lao Mian have chosen to sprint for listing on the Hong Kong Stock Exchange. Up to now, Green Tea Restaurant and Lao Wang have both launched sprints to the Hong Kong Stock Exchange twice, and none of them have been successfully listed.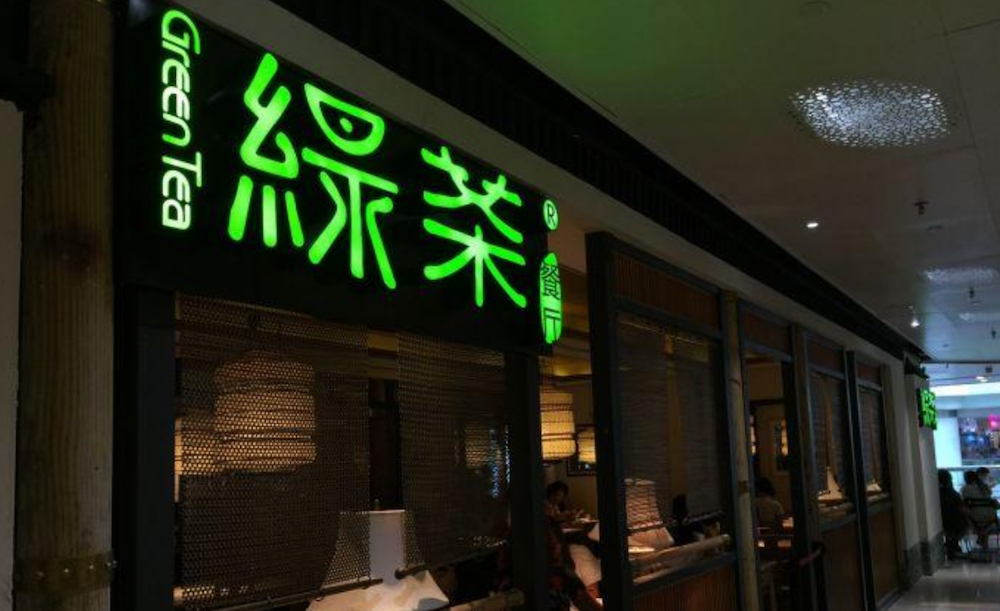 According to previous media reports, Green Tea Restaurant plans to initially plan to raise about 200 million US dollars (about 1.55 billion Hong Kong dollars). In this IPO in Hong Kong, the funds raised by Green Tea Restaurant are expected to be used to expand the company's restaurant network, repay short-term bank loans, build central food processing facilities, upgrade information technology systems and related infrastructure, etc.
Significant performance recovery in 2021
The prospectus shows that in 2018, 2019 and 2020, the green tea restaurant's revenue was 1.311 billion yuan, 1.736 billion yuan and 1.569 billion yuan respectively. In the first three quarters of 2021, the revenue of green tea restaurants increased by 58.2% year-on-year from 1.070 billion yuan to 1.693 billion yuan.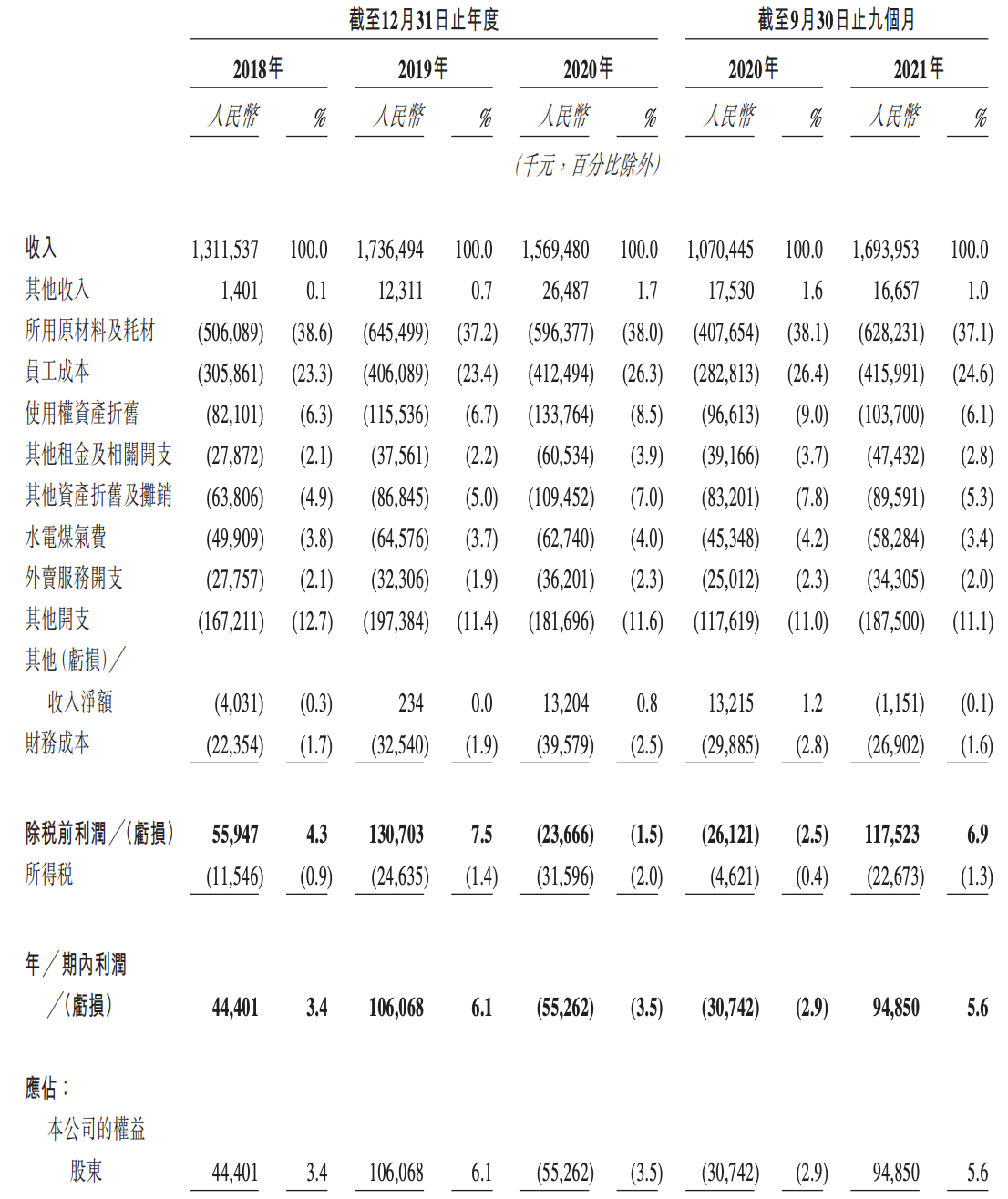 In the same period, the green tea restaurant achieved net profit of 44 million yuan, 106 million yuan and -55 million yuan respectively; in the first three quarters of 2021, the net profit of the green tea restaurant was 94 million yuan, the net profit margin was 5.6%, and the adjusted net profit margin was 6.9 %. On the whole, affected by the epidemic, the revenue and profits of green tea restaurants will decline in 2020, and will recover in 2021.
As of the Latest Practicable Date (25 February 2022), Green Tea Restaurant's restaurant network includes 236 restaurants, covering 18 provinces, 4 municipalities and 3 autonomous regions in China. According to reports,Green Tea Restaurant opened 59 new restaurants in 2021, and plans to open 75 to 100 new restaurants each year in 2022-2024.
According to the CIC report, in terms of total revenue and the number of restaurants in 2020, Green Tea Restaurant achieved a total revenue of 1.6 billion yuan, with a market share of 0.5%, with a total of 180 restaurants, ranking fourth in both indicators. According to the same information, among the casual Chinese restaurant brands that focus on offering fusion dishes, Green Tea Restaurant is the largest restaurant brand in terms of revenue.
According to the comparison of Beiduo Finance and Economics, in terms of total revenue and the number of restaurants in 2020, the top five are Xibei, Xiaocaiyuan Restaurant, Taier Pickled Cabbage Fish (under Jiu Mao Jiu), Green Tea Restaurant and Grandma's Home. Among them, Jiumaojiu's total revenue in 2020 is 2.715 billion yuan, its Taier Pickled Cabbage Fish is 1.962 billion yuan, and it has 233 restaurants.
According to the 2021 financial report released by Jiumaojiu not long ago, as of December 31, 2021, Jiumaojiu's revenue was about 4.18 billion yuan, a year-on-year increase of 54.0%; its net profit was about 340 million yuan, a year-on-year increase of 169.7%. Among them, the proportion of Taier Pickled Cabbage Fish's revenue will increase from 72.3% in 2020 to 78.8% in 2021, with a revenue of 3.215 billion yuan and 350 restaurants.
Green Tea Restaurant's post-hearing prospectus shows that the company's revenue in 2021 will be 2.293 billion yuan and its net profit will be 114 million yuan. From this point of view, there is still a big gap between Green Tea Restaurant and Jiu Mao Jiu's Taier Pickled Cabbage Fish, not to mention the latter's parent company Jiu Mao Jiu and another major competitor, Xibei.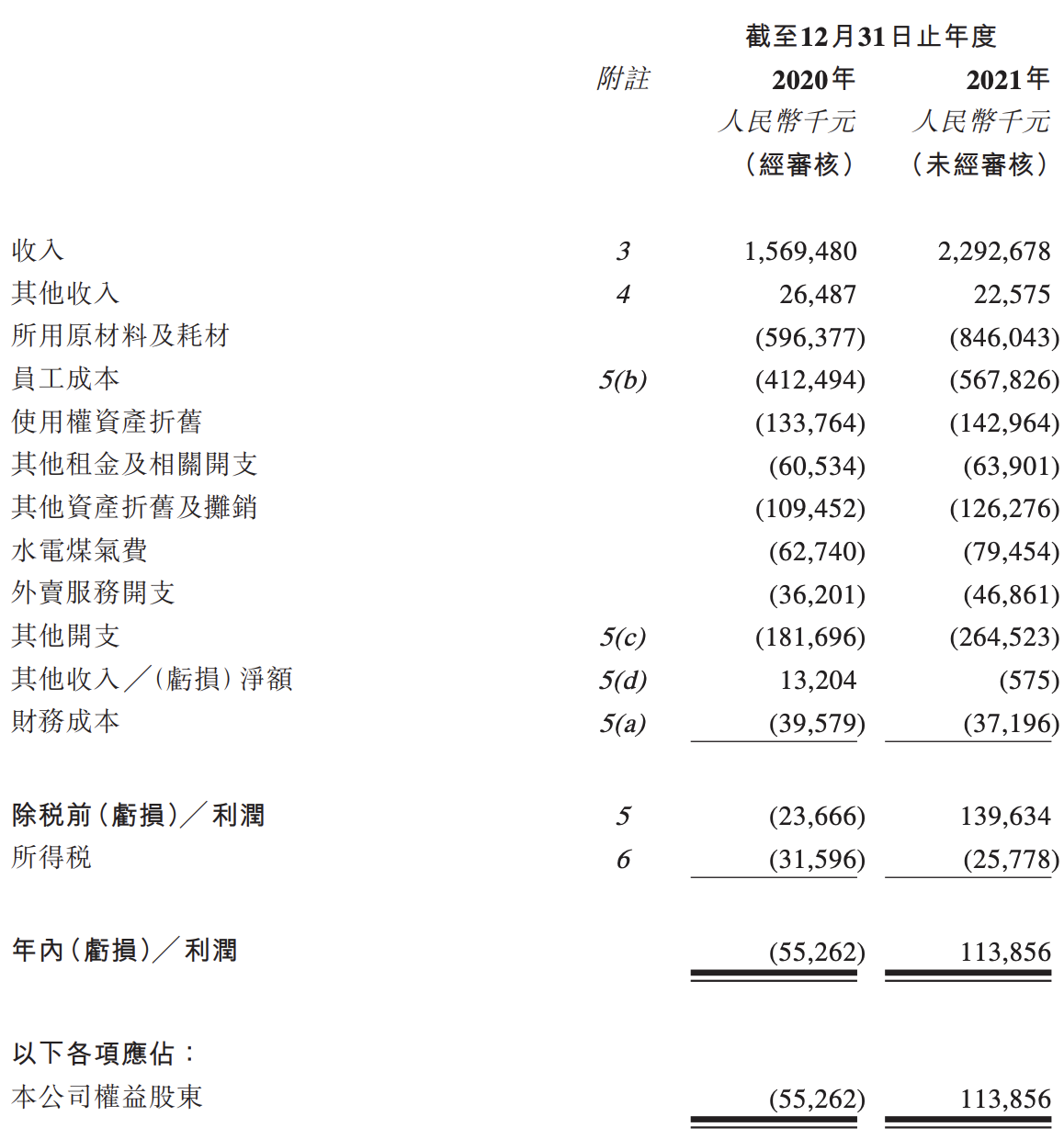 The restaurant table turnover rate has dropped significantly
Not only that, but now the turnover rate of green tea restaurants is also in a downward trend. According to the prospectus, from 2018 to 2020, the turnover rates of green tea restaurants were 3.48 times/day, 3.34 times/day and 2.62 times/day, respectively, and 3.32 times/day in the first three quarters of 2021.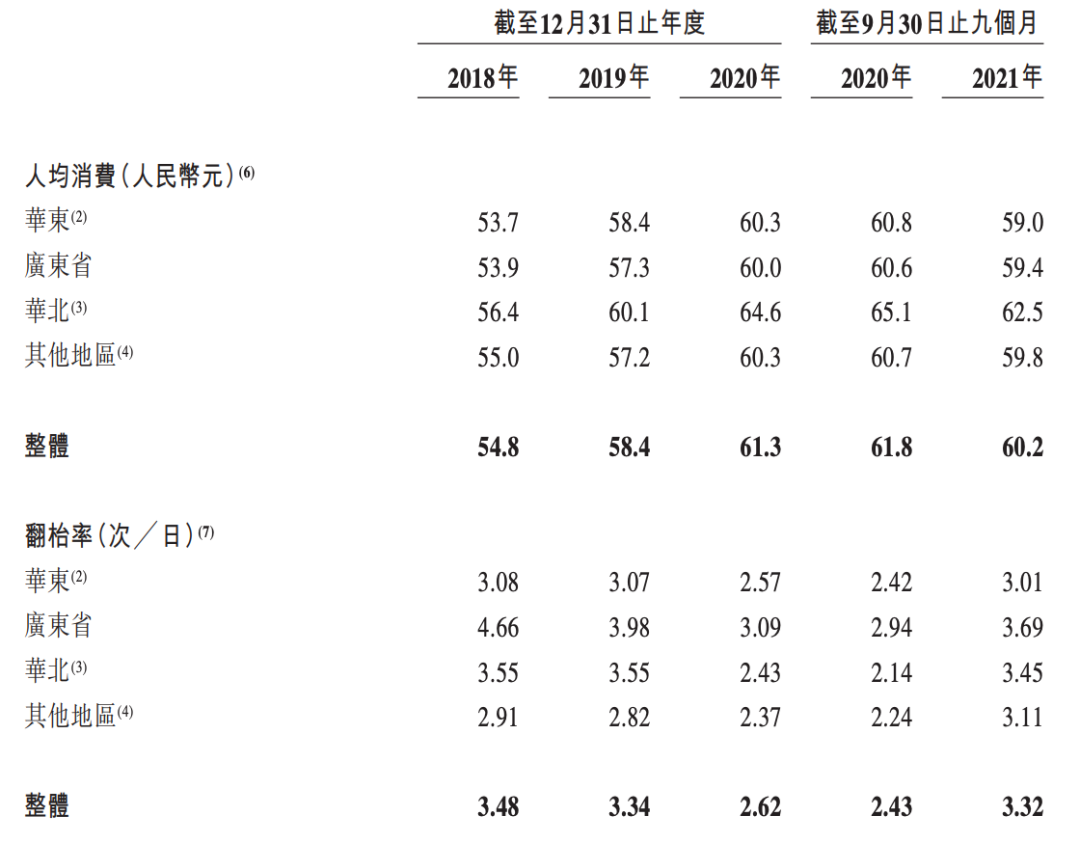 According to media reports, Wang Qinsong, the head of the green tea restaurant, once said in an interview in 2014, "The difference between green tea and other restaurants is that the table turnover rate is very important. Only when the table is full can you make money. The turnover rate of 4 times a day is to keep the capital. , the maximum is 7 times. 4 times should be a threshold for mass catering, if it cannot be reached, then it may be necessary to consider whether there is any problem."
The prospectus shows that the green tea restaurant has repeatedly encountered food safety problems. Among them, on August 7, 2020, a news report alleged that a green tea restaurant in Shijiazhuang had various food safety problems. According to reports, the green tea restaurant has problems such as employees trying dishes in an inappropriate way, unsanitary food storage, unsanitized restaurant utensils, and employees without health certificates.
In addition, the green tea restaurant Intime Department Store Hangzhou Qingchun Branch once processed the homemade sting head with hot and sour sauce (production date/batch number: 2021/9/13), and the detection value of aluminum residue (calculated as Al in instant jellyfish) was 724mg /kg, the standard is not more than 500mg/kg, which was notified by Zhejiang Provincial Market Supervision and Administration Bureau in December 2021.
In September 2020, the Anhui Provincial Market Supervision and Administration Bureau issued a notice on the unqualified situation of 6 batches of food (35th issue of 2020), showing that the perch (freshwater fish) sold by the green tea restaurant Hefei Binhu Yintai Store, Ennosha The detection value of star (calculated by the sum of enrofloxacin and ciprofloxacin) is 273 μg/kg, and the standard stipulates that it is not more than 100 μg/kg.
Before the listing, the founders of Green Tea Restaurant, Wang Qinsong, Lu Changmei and his wife, and Yielding Sky, Contemporary Global Investments and Time Sonic controlled by them were the controlling shareholders of the company, holding a total of 65.8% of the shares; at the same time, the A round investor Hezhong The group holds a 28.2% stake through Partners Gourmet.
Among them, Wang Qinsong serves as the chief executive officer, chairman of the board of directors and executive director of Green Tea Restaurant, and Lu Changmei is a non-executive director. In addition to Wang Qinsong, the executives of Green Tea Restaurant include Yu Liying, Executive Director and Vice President, Wang Jiawei, Executive Director, Chief Financial Officer and Secretary of the Board of Directors, Zhang Li, Chief Financial Officer, and Tai Fang, Vice President.