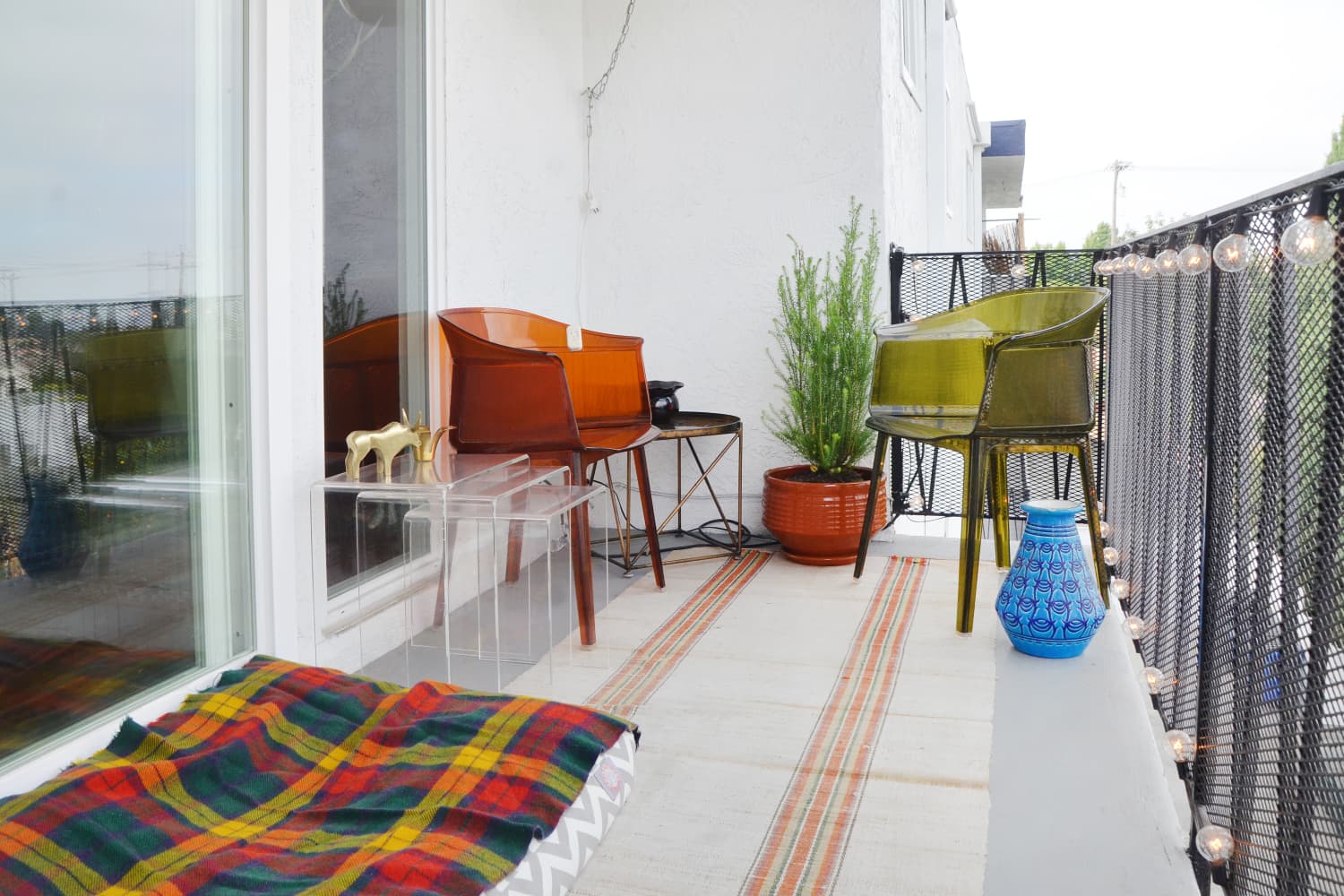 We independently select these products—if you buy from one of our links, we may earn a commission.
For most people, apartment living doesn't exactly come with outdoor space for luxuries like a she-shed or a swimming pool. But if your space comes with a balcony, rejoice! You've got your own little slice of the great outdoors to customize exactly how you'd like. A little attention to detail (and of course, our expert styling tips!) can turn a small, drab balcony into your very own outdoor oasis. 
Here  are a few balcony ideas to consider when you revamp your outdoor space.
The first thing you'll likely want to add is some furniture. But remember, anything you put on your balcony will be exposed to the elements. Materials like resin wicker, wrought iron, teak, and plastic can handle most of what Mother Nature throws at them.
Next, it's time to add some items that will help make your balcony shine. Plants are great for spicing up the space. Flowers like geraniums and begonias, sturdy plants like bamboo, and fresh herbs all thrive on a balcony garden. The list of outdoor plants is long—just be mindful of the hardiness zone you live in and how much light your balcony gets before making any decisions.
Finally, consider whether you're looking for privacy in your outdoor space, and how much of it you'd like. While shared living spaces like condos and apartments can make total privacy difficult to achieve, there are a variety of balcony ideas to help you wave goodbye to nosy neighbors and claim more personal space. Tall plants, climbing vines, and shrubs are great instant fixes. Weatherproof textiles and fabric hangings are excellent for closing off your space a bit and adding some much needed shade, too. You can even buy privacy screens made of everything from metal to bamboo. 
By now, you're probably realizing that there are tons of balcony ideas to incorporate, even for the tiniest space. Ready to get started? Check out the charming examples below.
Nicole and Clay's California balcony was dull and uninspiring. So, they teamed up to revamp it, adding faux boxwood panels to the existing siding, and adding a wooden privacy screen above it. Personal touches like succulents and a cozy egg chair (a small balcony essential!) are balcony ideas that make the space their own.
One of the best balcony ideas is to use the space for more than one thing. If you have the room, why not add a spot for both dining and lounging? This balcony has ample seating and an outdoor rug and pillows for a comfy feel.
Small space? No problem. You can still customize what square footage you do have by thinking outside the box. If you're after plants, simply stack them and create a vertical garden rather than spreading planters out across the floor. Nesting tables and hanging planters are also great space savers.
If you're looking for balcony ideas for an uber-small space, cafe seating might be the way to go. Check out this basic-turned-beautiful balcony: the facelift consisted of little more than a tiny cafe table and chairs, along with some beautiful flower boxes for a hint of added privacy. 
A colorful, eclectic mix of styles is one of our favorite balcony ideas, and it's what makes this balcony in the Bay Area special. Established by the lucite chairs, the warm color palette is reminiscent of the '70s. But the rug, planter, and chiminea give the space a subtle Mediterranean vibe. It's a perfect blend of quirky, stylish, and soothing elements.
In keeping with the modern minimalist theme of her entire apartment, Chicago resident Candice Sing designed her balcony in black and white, with a bevy of potted plants to perfectly balance out the space and add a pop of color. 
7. Sleek Minimalist Balcony
There aren't quite as many balcony ideas for small spaces, but don't let that stop you. Simply go for a minimalist look with a tiny outdoor table and chairs set like this one you can buy at IKEA. Just add some seat cushions and greenery and you're good to go.
What's black, white, and ridiculously chic all over? This posh balcony in Singapore. Not only is the polished black and white tile floor a sight for sore eyes, but we also love how the rest of the décor pairs with the flooring. 
9. Embrace all the Plants
Plants make for the best décor on this colorful New Orleans balcony. 
"I started with just a few plants here and there, but then had the grand idea to turn it into a solid plant-filled patio for a little privacy and an outdoor escape," renter Danielle Lindsey says of her design. 
As you can see, canopies aren't only appropriate for the bedroom. In fact, they can exude a whimsical vibe when placed on your balcony. And when you consider the fact that this balcony idea also adds some much-needed privacy, it's a clear win-win! 
It's no secret that a balcony is a wonderful place to put your green thumb on full display, but we dare you to get a little more creative than placing your petunias in a planter. In Elizabeth Tulipana's Chicago space, she artfully hung plants from her balcony railing. Vertical gardening has never looked so chic!
Want to make your balcony feel as curated as the rest of your place? Take a cue from this Houston "tree house" by adding personal touches. The strategically placed shutters and delicate garland make this one outdoor space you'd struggle to leave.
If you're dreaming of being an herbalist or a small-scale gardener but you're working with a small balcony, take a tip from San Diego residents Melissa Padilla and her partner. They used a wall panel from IKEA to create their very own vertical herb garden. 
Come summer, you'll be spending a lot of time on your balcony, so it's important to design your outdoor space with comfort in mind. Designer Trent Hultgren's has the coziest striped hammock, a great balcony idea for lounging outdoors in the warm-weather months.
Want to revive your outdoor area without spending a small fortune? Then purchase some new throw pillows. In this Australian home, the throw pillows really spice things up on the balcony.
You love using a fresh coat of paint to spruce up your indoor space, so why should your balcony be any different? The light green accents featured on this Chicago apartment's balcony are perfectly natural.
When it comes to balcony ideas, could there possibly be a more popular one than string lights? They're absolutely everywhere, from posh wedding venues to downtown apartment balconies. With rows upon rows of twinkling lights, as seen on this Brooklyn balcony, your outdoor space will look sharp any time of day.
Warning: This idea isn't for design wallflowers. But from the bright yellow chairs to the cheery banana-printed cushions, we can't help but smile whenever we see this apartment balcony.
Love having friends and family over? Give your balcony the host's touch with plenty of seating. This L-shaped couch on Allison and Luke's cozy balcony makes the most of the small outdoor space.
What better way to embrace those lazy summer days than kicking back and relaxing on a daybed? Actress and artist Karen Racicot nails the look in her eclectic Toronto home.
No, you don't have to limit the fabrics on your balcony to durable canvas and vinyl. This Hollywood Hills home takes the texture up a notch by adding some sheepskin to the outdoor space. Just be sure to bring the more delicate fabrics inside before a big storm!
Keep things simple on your balcony with a set of chairs and a small side table. Let this Amsterdam apartment show you how it's done.
Additional reporting by Carolin Lehmann
Kelsey Mulvey
Contributor
Kelsey Mulvey is a lifestyle editor and writer. She has written for publications like Wall Street Journal, Business Insider, Wallpaper.com, New York Magazine, and more.